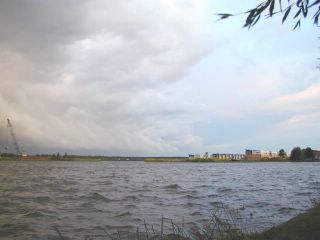 Why I understand Pale so well. This picture is taken standing in front of my house. No trouts here, but carps, breams and pikes.
Bahus notified me at a
chessquiz from Dan Heisman
My advise is, don't do that, it's bad for your ego.
I got a tactical rating of a pathetic 1350.
It's strange that I do tactics for about 3 years, my clubmates think of me as a tactical beast and then this!
The test has a strong emphasis on speed, which I didn't realize at that moment.
But if I set my ego aside, a message can be learned from it.
Those 3 years of training tactics gives me the feeling that I have the right to claim "I'm good at tactics now!". Well, I gained 230 ratingpoints in that period and that's not too bad. But if I am really honest, I don't have the feeling that I am very good at tactics now. The method I used the last three years was to master tactics by the sheer amount of problems I solved.
This was not very effective, and after the first two years I didn't grow further. Only recently I started with repeating the problems in DLM-style, and immediately my rating started to grow again.
The test shows me that a lot can be gained by continuing training tactics. My progress is from extremely bad in tactics to just plain bad in tactics. And that is, however painful, a good message!
Because training tactics is simple, you only have to do it.
So I'm not going to change my trainingsplan for the next future: tactics, tactics and more tactics!
Allthough I have to admit that the lessons from the book of Seirawan "Winning chess strategies", which I got from fatboy, fall on extremely fertile ground here.
Update.
A warm welcome to our newest Knight who picks up the gauntlet,
Satish Talim
Alas I have some troubles when loading his site. I E-mailed with him about it, so if you have the same problems, please let him know by leaving a comment on THIS post.